IN OUR LIVES
The big news this month is with Dean's upcoming court hearing.  Please pray especially in  October , when the hearing is scheduled to take place.
Last month we wrote about the dental bill generated by Stephen and Caryl. We are pleased but not surprised that God has supplied a majority of the money already. Praise God! Thank you so much for your prayers and support.
It is apparent that God does not want us to sell our house in Phillipsburg. We have talked to a couple trusted realtors and gotten opinions and prayer from friends and family. Seems the doors are all closed on the sale idea. So now we are focusing on making the house work for us more.  To do this we are using two approaches, save money and receive more income. We are doing this by trying to refinancing the mortgage and cleaning out our personal items in the garage so we can rent out that space as well. If anyone is interested in garage rental in the Phillipsburg area, please contact us.
On a similar note, the Township of Phillipsburg requires a biyearly inspection of all rental properties. We had ours last month and the house failed on a number of safety and housekeeping items. Most are of a minor nature, like smoke detectors or tree trimming. Some are major like sheetrock work, electrical, and floor repair. So if anyone is interested in helping us get some of this work done, please contact us for a more detailed list. Please pray that God sends Stephen help with this area he is not strong in.
Again, we ask our supporters to consider becoming prayer partners. Contact us so we can put you on our list. Likewise continue to pray for us along with opportunities to speak at conferences and churches.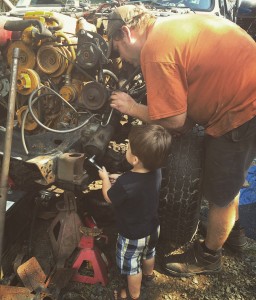 At CMTS
The building project has taken a huge turn for the better in the last month. September started out with a CMTS board meeting where a plan of attack was discussed and voted on. Since then we have had a land survey completed.  God allowed the funds to come in for the remainder of the supplies. We also have a concrete contractor to help us with foundation work. Please continue to pray for the building project, that God sends the people we need for the dirt work, building erection, plumbing, electrical, paving, and interior building work. Also pray about the supplies still needed, concrete pipe for drainage, heating, electrical, plumbing, asphalt, lumber, hardware, doors, windows, and other items we haven't even thought of.
Please pray as we continue to get all kinds of stuff together for the Belize trip. This January's trip is coming together, but many items need to be sourced or checked over still. There are many options available to go with CMTS to Belize.  The basic drive down trip starts Friday, January 15th, 2016 at CMTS Bernville.  The team driving to Belize spends a few days at the Texas/Mexico border working with local ministries and churches. After arriving in Belize, the team will help out for a couple days before returning to the US, around January 29th.
The cost for the basic trip is $1500. Almost any term of stay can be arranged from January 15th to March 18th when CMTS staff returns to PA. For people not interested in driving down, flying can be arranged. The trip is appropriate for individuals, couples, families, and groups. We send teams down in February. For more information call the CMTS office or feel free to ask us. Keep in mind different options may cost differently, so contact us for quotes. CDL drivers and regular drivers are still needed. In the past scholarships have been available; contact us about availability if money is a problem.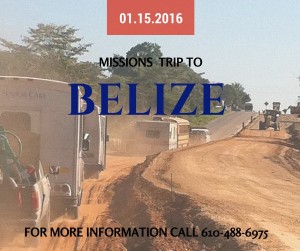 Joyfully,
The Nemecs