At CMTS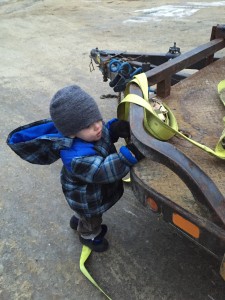 December ended up being a lot milder than expected, which was a huge blessing for getting stuff done for Belize. We now have all 4 tractor trailers with containers. Two are filled and two more need to be finished. Besides the road tractors there are two school buses and a step van going this year. The caravan is leaving on January 20th. Please pray as we try to get all the trucks looked over and serviced. Also pray for safety on the trip for all the staff and volunteers going this year.
         This year there is a mini Belize trip going earlier. A school bus and two Ford Rangers will be driven to a port in Florida and put on a cargo ship. The reason for this is to get certain items to Belize that the Mexican government does not want shipped through its country. The three vehicles are filled with tires, paint, food, clothes, woodworking machines, and other items that Mexico will not allow. The trade off for this method of shipping is a higher price to get the vehicles there.
        Thank you for all your prayers for the guys in the shop. Since last month attendance has been much higher and the guys' mental, spiritual, and emotional health has been great. Please continue to pray for all the staff here.
       One of the staff members had a bad screening at the doctor a few months ago. She went in for a routine check up and signs of cancer were detected. So after a few more tests it was determined that it was cancer and it was not good! A few weeks ago she and her huband went to the doctor to discuss her options. At the consultation the surgeon could not find the cancer!! It was gone, completely! She told the surgeon that everyone had been praying about the situation. The surgeon did not claim to be a believer but was not surprised; he had seen situations like this before. Praise God for this amazing miracle. What a amazing testimony to the surgeon, staff at the office, staff at CMTS and everyone reading this update.
In Our Lives
       Christmas went very well this year. We were able to visit a lot of family and i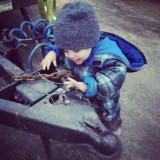 t was a very nice time. As a family we are not much into traditions but have a couple we hold on to. One of them is to read the Christmas story out of usually Luke before any presents are opened. That is to help keep the celebration in proper perspective. Hard to get wrapped up in consumerism when your mind is on the birth, life, death and resurrection of Christ.
       Thank you for all your prayers regarding our support and promotion of the ministry. God has definitely brought about situations that have inspired us to get serious about this. Every church in the Lehigh Valley, New Jersey and beyond need to know about CMTS and the valuable services God accomplishes here through all of us. Some doors have already opened for us — please pray for more.
      Dean's court hearing about his mom's involvement in his life was supposed to be this month on the 15th.  The hearing unfortunately has been postponed another 6 months. During this time visitations will continue.  Please pray for wisdom, patience, and guidance as we have to wait 6 more months for a decision.
Joyfully,
The Nemecs