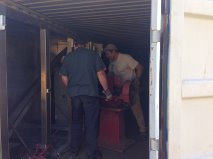 At CMTS
With the weather turning, November was pretty busy getting outside stuff done. We now have two school buses and two shipping containers done or nearly done for the Belize trip. Stephen is still working on the dump truck mentioned last month. The progress is slow only because he is so busy keeping the other shop members going on their projects. As shop manager Stephen spends a lot of time on that as well as helping all the departments with mechanical needs.
The shipping container for Douglas Youboah went excellent. The Boys Brigade group that came out worked really hard from 8am to 9:30pm. Douglas was able to send more than expected and all really nice stuff.
The building project is still in limbo due to the township and bank quarreling over funds. Recent meetings with both townships have proven positive. Please continue to pray for the situation.
Some of the staff members are older gentlemen who have bad pasts and the baggage going along with that. Recently some of them have been struggling with depression due to their pasts and family struggles. Please pray for them and for the leadership here to help them through these tough times.
In Our Lives
We are still praying about our house in NJ. God has not yet made evident any clear paths about what to do. Please pray for God's direction.
A huge prayer request for us is our financial resources. With Ryleigh starting private Christian school it has taken an already tough situation and made it a little tougher. We just need prayer that God supplies more resources. The only thing that would be better than more financial support is if God opened up doors in other areas so we could save money. For example, our house costs us about the same as Ryleigh's school tuition each month. So if there was a way to sell our house or refinance that would take us back to where we were over the summer.
Thanksgiving outreach went excellent. We fed 32+ families and gave Third Street Alliance 14 turkeys. God is good. For more info on that ministry, you can visit the church website, http://cornerstonechurches.org.
Thank you to all our friends, family, and church family that support us in every way! We could not be here serving without your faithfulness. God has called us to this special vision at CMTS and we thank you for having the same vision: God's glorification and the spread of the gospel.
Joyfully,
The Nemecs